Education, Training and Employment Support for British Columbians Living with Acquired Brain Injuries
The Brain Injury Alliance Dr. Gur Singh Memorial Education Fund for Individuals is intended to fund educational and job training projects for persons with a medically confirmed acquired brain injury.
The funds (up to $2,000) may be used for job training, upgrading or further education, with an emphasis on programs that improve employment opportunities.
Who Can Apply
Associations/Societies that provide services to people with acquired brain injuries may apply on behalf of an individual with a medically documented acquired brain injury who is attending, or plans to attend, an educational/training institution in British Columbia. Associations must be:
A Canadian Registered Charitable Organization according to the federal income tax act
A registered British Columbia non-profit society in good standing
A Brain Injury Alliance Member, or an Alliance approved charitable non-profit
Medical proof of an acquired brain injury may include, but is not limited to:
CT, SPECT, MRI, Functional MRI or equivalent report clearing indicating brain injury.
Psychiatric reports with DSM IV diagnosis of acquired brain injury.
Neuropsychological assessments clearly indicating brain injury as a primary diagnosis.
Hospital records clearly indicating acquired brain injury.
Medical/Rehabilitation or Hospital discharge reports clearly indicating brain injury.
Meditech verification of brain injury.
Written verification from a health authority stating that the individual has a brain injury.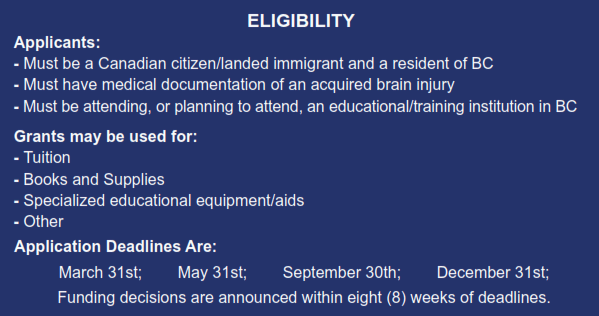 IMPORTANT: Application forms must be saved to your desktop to be completed, and then be attached to an email and sent to info@drgursinghgrants.ca.
Scanned copies of applications will not be accepted.
You will be required to provide digital signatures in the membership application. For information on creating a digital signature, please visit: https://helpx.adobe.com/acrobat/using/digital-ids.html
You will receive a confirmation email from us when we receive your application. If you do not receive one after 3 business days, please send us an email.
APPLICATION
Click Here To Download Application (revised February 2019 – please remember that the application form must be saved to your computer to be completed)
NOTE: Persons with a brain injury can not apply on their own for a Dr. Gur Singh Grant. Please contact an association/society that provides services to people with acquired brain injuries, who will apply for a grant on your behalf if you qualify. If you are not aware of services near you, please let us know where you are located, and we will inform you of whom to contact in your area.